About Miriam
Professional Bio | Resume | Personal Bio | Contact Information
Professional Bio
Pianist MIRIAM ELEY is Master Faculty member of the piano department at Westminster Conservatory of Music in Princeton, NJ. She has served on the Westminster faculty for over 20 years. Prior to 2005, Ms. Eley divided her time between teaching and administrative work at the Conservatory - most recently serving as Extension Manager at the Ocean Grove (NJ) Extension of Westminster Conservatory. Previously, in addition to teaching, she served as Coordinator of Special Projects for eleven years and Group Piano Coordinator for five years. In addition, she currently teaches composition and piano pedagogy in the Professional Development Certificate Program of Westminster's Continuing Education department. As a result of teaching within this program for many years, Ms. Eley has written a student/teacher workbook, Sketches and Imagery at the Piano – an approach to composing through improvisation, which can be creatively incorporated into the curriculum of private or group piano lessons. Since 2000, she has served on the piano faculty of the Middle School Piano Camp at Westminster Choir College, in addition to teaching composition classes for the Piano Camp.
Miriam Eley
and Esma Pasic-Filipovic



Her article published in Keyboard Companion (Winter 2001) discusses the importance of "How and When to Teach Phrasing," focusing on the need for students to sing and listen to the shape of a phrase as they first learn to play the piano. In 1995, Miriam Eley was appointed to the piano faculty of Westminster Choir College of Rider University as Adjunct Assistant Professor and teaches in the secondary piano program there. Her formal training includes work at Indiana University, where she earned the degree Master of Music in piano performance with distinction; Baylor University (B. M. in piano performance); Peabody Conservatory of Music; and Interlochen Arts Academy, where she earned the high school diploma. She received additional training (1987-89) in piano pedagogy with Frances Clark and Louise Goss at The New School for Music Study in Kingston, New Jersey. She later taught and served as Coordinator of the Preparatory Division there for an additional two years.


Ms. Eley maintains a private piano studio and has developed a multi-media/music center in her home. Her devotion to showing students the art of composing through improvisation has broadened her approach in teaching. Ms. Eley's ideas encourage students to think creatively by following a methodical, imaginative process which is guided to become a shared learning experience by both the teacher and students.
Ms. Eley began composing and studying piano at age three. Her teachers include James Tocco, Roger Keyes, Jo Boatwright, Fernando Laires, Drusilla Huffmaster and her mother, Anita Hopson Henderson. Her teaching experience includes faculty positions at Brewton-Parker College, Southwestern Baptist Seminary School of Church Music and as Associate Instructor at Indiana University.
Miriam Eley maintains active membership in New Jersey Music Teachers Association, American College of Musicians and The Steinway Society and is a member of Pi Kappa Lambda. She has adjudicated numerous local, state and regional piano festivals, auditions and competitions in California, Georgia, Texas, New Jersey, Delaware and Pennsylvania. Miriam Eley is a published composer and has performed throughout the United States as piano soloist, chamber music collaborator and accompanist to her husband, baritone Elem Eley.
Resume
Click here to download Ms. Eley's resume in PDF format.
Personal Bio
When teaching schedules and other professional obligations lighten in the summer months, Miriam enjoys more time to practice, travel, garden and dive into home decorating projects. Most of all, summer offers her time for reflection at the Jersey Shore and being with her family and friends from all around the country. It is a time for re-charging her batteries, composing and also creating new composition projects for her students. A limited but invigorating summer teaching schedule includes her work at the Middle School Piano Camp at WCC and within her private studio and at Westminster Conservatory. Take a look at the Rider University website, Westminster Choir College Continuing Education Summer Programs. Check out www.rider.edu/westminster for more information about MSPC and other programs for middle school and high school age students.
| | |
| --- | --- |
| | As a native Texan, adjustment to living in the Northeast for more than 20 years now has proven to be a deeply enriching and rewarding experience for both Miriam and her husband, Elem Eley. The first 12 years of married life were spent developing their talents in Texas, California, Georgia, and Indiana as students and professional teachers/performers. Her husband's dual career as professional singer (baritone) and Professor of Voice at Westminster Choir College has been as active and full as possible, given his position at the College and the additional responsibilities his position holds. Elem has built a singing career with regional, national and international engagements that continue to develop as time goes on. You are welcome to view his upcoming calendar of performances and other engagements on his website, www.ElemEley.com. |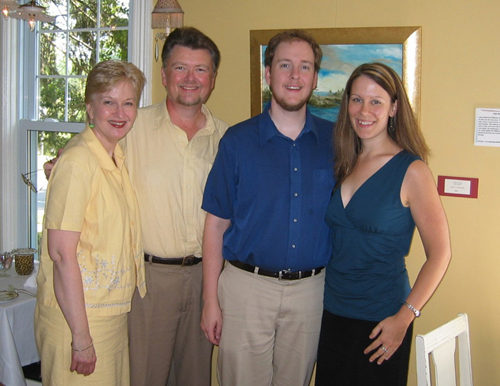 Miriam, Elem, Ben and Susan
Benjamin, their son, had very early and impressionable musical experiences at the American Boychoir School in Princeton which far surpassed their expectations for his education and musical training. Benjamin's national and international travels, performing opportunities and interaction with varied cultures of the world were truly "once in a lifetime" experiences that helped to shape his values, character and outlook on life. Miriam and Elem are so grateful that, several years ago, Ben's journey placed him right in the path of his soul mate and their daughter-in-law, Susan Landis Eley. They were married in November 2002; after graduating with Masters degrees from Indiana University, they have relocated back to central New Jersey. Both are extraordinarily gifted singers and young professionals.Both Ben and Susan "freelance" with New Jersey summer opera programs or do church solo work as time allows. In addition to his work as Associate Director of Financial Aid at Princeton University, Ben enjoys a flourishing second career as photographer. Take a look at this website: http://www.BenjaminEley.com. Susan is media specialist/librarian at Hillside Elementary School in Mt. Laurel, NJ.
The newest member of the Eley family, Grandson Number Two, arrived October 12, 2012--joining Grandson Number One as the youngest students on Miriam's waiting list—top priority!
Over the years, cats have played a big role in the Eley household. Their 19-year-old, dearly-departed "Mimi" saw them through many changes and challenges over the years. For another 19 years, it took two cats—Carmen and Gretel—to replace the title of prima cat which Mimi held for those many years. Carmen and Gretel, devoted pets and good companions, have been replaced by their cousins, Pamina and Sprinkles.
Contact Information
Miriam Henderson Eley
Pianist, Composer, Teacher
Westminster Choir College of Rider University
Westminster Conservatory of Music
101 Walnut Lane, Princeton, NJ 08540
Ph. 609-921-7100, ext. 8988, mailbox 88607#

E-mail: mireley1@gmail.com